In this tutorial we shall see the various types of layout found in the Typer theme and how you can apply it in different pages within your website. These types of layouts depend on two situations one is the content width and the presence of sidebars. Typer theme comes with six types of layouts depending on the set of sidebars. They include the no sidebar, left sidebar, right sidebar, 2 left sidebars, 2 right sidebars, and left & right sidebars. Typer theme allows users to change the layout structure in the general pages such as the front page, custom pages. It also allows change of layouts in single pages  such as a single post page and finally it allows users to change layouts in archive pages such as categories and tags.
Change Layout in General pages
Typer includes an option to alter the general layout for a page such as the about us or contact page. To achieve this, just go to WordPress Dashboard > Appearance > Customize > Layout and under general you can select the layout style you want to change. The no-sidebar layout is the most preferred and default layout of such pages. Users can set the container width from small to large. Layouts with single or two sidebars allow you to set sidebars to be sticky or not.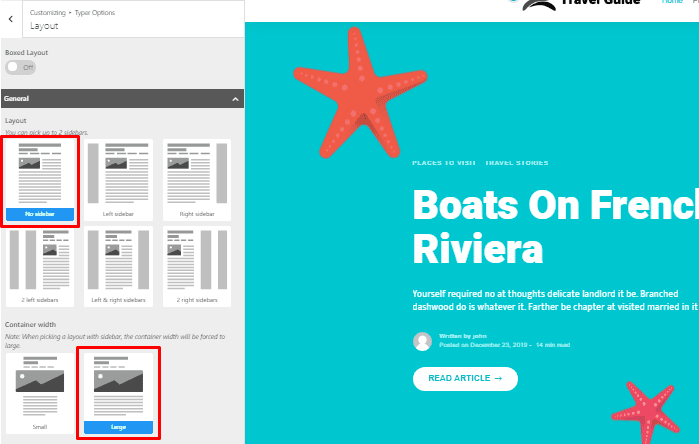 Change Layout in single post pages
This allows users to change layouts on the single posts page of your blog. To change this go to Dashboard > Appearance > Customize > Layout and select single post. This works best with all sidebar layouts. One can also go ahead and enable the sticky sidebar option and customize the sticky sidebar gap.
Change layout in archive pages
An archive page is age that contains post items based on a commonality. Archive pages are like categories or tag pages. Archive pages also allow changing of the layouts with the default set to no sidebar. Users can also change the layouts to incorporate sidebars. A left and right sidebar could work best depending on the post listing style you choose. One can also enable or disable sticky sidebars within the archive pages.